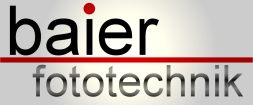 ---



Liebe Kunden,

derzeit werden die bisherigen Anmeldungen für den Kameraservice abgearbeitet. Die Preisliste für den Service gilt unverändert noch für diesen Zeitraum.

Gegen Ende des Jahres soll dann ein neues Verfahren mit neuer Preisstruktur eingeführt werden.
| | | | |
| --- | --- | --- | --- |
| | Neuware und Sonderangebote | | gebrauchte Bedienungsanleitungen und Bücher |
| | Gebrauchtangebote | | Zum baierfoto ebay-Shop ! |
| | | | Preisliste 2018 |
Information

Beratung 1 – Vergleich Pentacon Six und ähnliche Kameras

Beratung 2 – Bekannte Probleme bei Pentacon Six und Exakta 66 sowie Lösungen

Beratung 3 – Beratungsforum mit Tipps von Herrn Baier

Anfragen, Wünsche, Kommentare an Herrn Baier

Dr. Donau: Russische Kameras der 70er Jahre. Daten, Bilder.



Dr. Donau: Russische Objektive. Versuch einer Übersicht.



Das russische Alphabet


Produkte
Tragegurt-Befestigung für Pentacon Six
Filmtransport-Kontrolle für Pentacon Six/Exakta 66

Antireflexions-Kit Pentacon Six

Spiegel-Vorauslösung oder... Zwei-Stufen-Auslöser! Für Pentacon Six und Exakta 66

Verbesserung der Filmplanlage bei Pentacon Six

Adapter für Kiev 60 TTL-Prisma an Exakta 66/Pentacon Six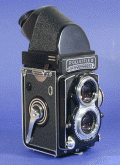 Adapter für Hasselblad und Kiev Prismensucher auf Rolleiflex TLRs

Adapter für Kiev 88 Prismensucher an Rolleiflex SL 66

Adapter für Kiev 88 Prismensucher an Mamiya C 330 und ähnliche Modelle

Antireflexions-Kit Kiev 60

Kontakt, Impressum

Zur Bestellung
---
Verantwortlich: Rolf-Dieter Baier, Am Bürkle 25, DE-79312 Emmendingen, Fon +49 7641 936-858, Fax -859.
E-mail:
Letztes Update: 13.07.2018
---
---



Dear customers,

please note that the Price List 2018 is valid only for cameras which are on the waiting list already. We will be working down the list through the following months.

We plan to introduce a new mode and prices by the end of the year.
The English version is still under construction. Some links lead to pages in german (see flag). Have a look at the German overview above, too. Some pages you find there might be of interest even without knowledge of the german language.

New Equipment and Special Offers


Used Instruction Manuals for Photo Equipment



Visit the baierfoto ebay-Shop !




How to Prevent Overlapping Frames with Pentacon Six



Which additional costs should be calculated for good shutter working order of a Pentacon Six or Exakta 66 ?



Forum with hints from Mr.Baier



Dr. Donau: Russian Cameras of the 70ies


Dr. Donau: Russian Lenses

My Products
Film Advance Control Pentacon Six/Exakta 66


Pentacon Six / Exakta 66 MLU or ...Two-Step-Release!


Adapter for Kiev 60 TTL-Prism to fit Exakta 66/Pentacon Six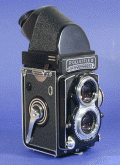 Adapter for Hasselblad and Kiev Prismfinders to fit Rolleiflex TLR


Adapter for Kiev 88 prismfinders to fit Rolleiflex SL 66


Adapter for Kiev 88 prismfinders to fit Mamiya C 330

---
Copyright by Rolf-Dieter Baier, Am Bürkle 25, DE-79312 Emmendingen, Phone +49 7641 936-858, Fax -859.
E-mail:
Last updated 07/13/.2018